Works Details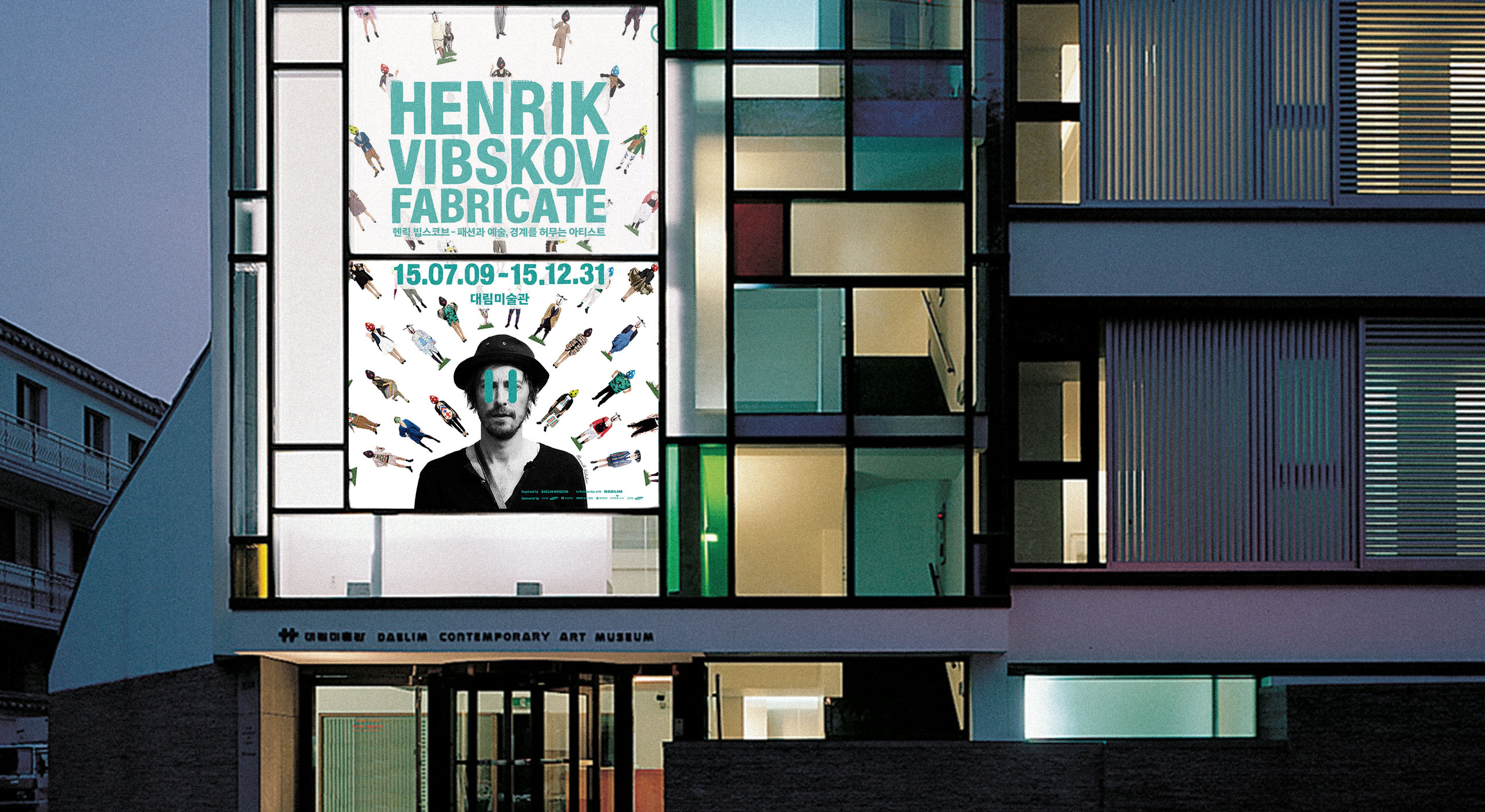 UX

UX Concept Building, UI Concept Building, User Flow, Lo-Fi Prototyping, Wireframing, UI Design
Tech

HTML5, CSS, Web/App Accessibility, SEO, Objective-C, Android
By blending the regional characteristics of Daelim Contemporary Art Museum, situated in Tongui-dong, the Project Space (Gooseulmoa billiards) in Hannam-dong, and The Museum, newly established, along with artistic nature of each space, we were trying to create a hub for culture and art. With the strengthening of its function and reorganization of its contents, we were wiling to provide various membership services and programs to visitors. For instance, we constructed scenarios for each situation of visitors before, during, and after the visitation, and based on these scenarios, we have developed major contents for each channel, including PC web, mobile web, and app. In addition, we have provided library contents for each exhibit in order to attract visitors to more frequently visit its website.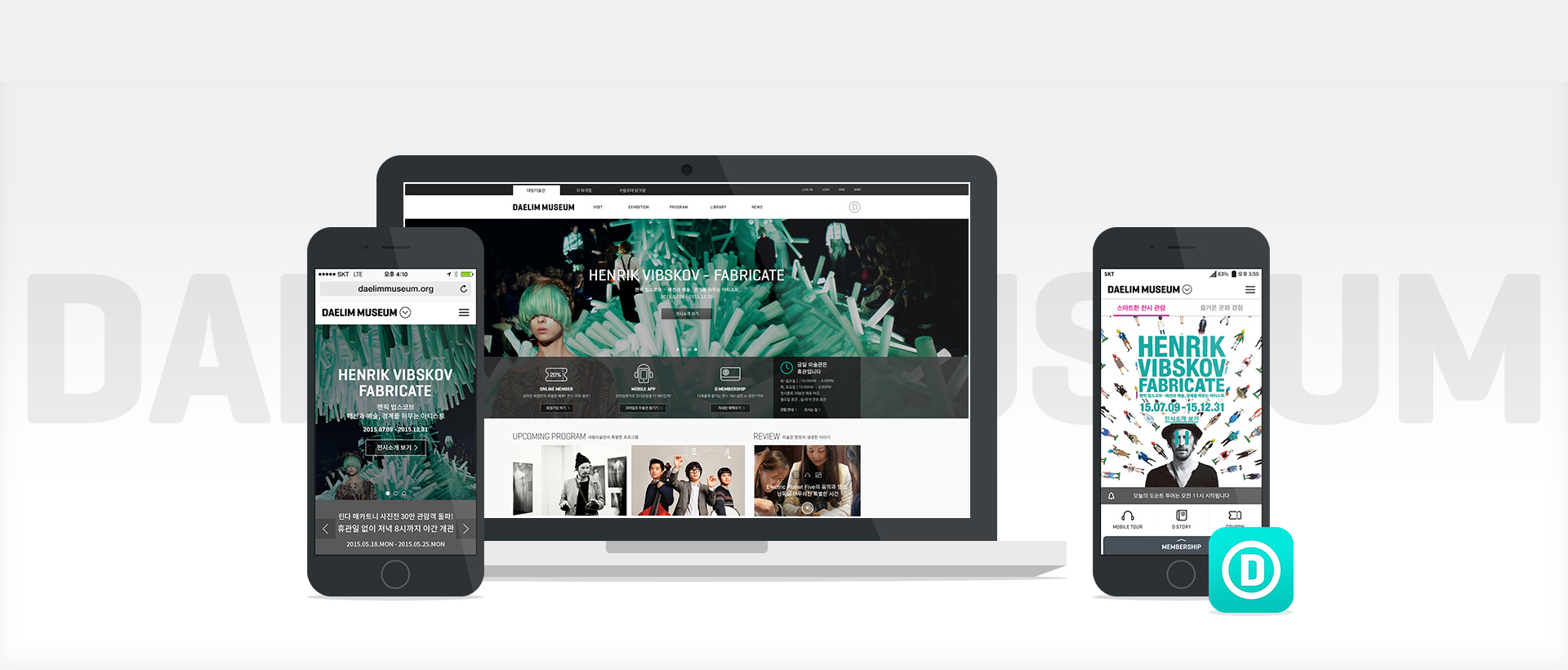 Daelim Contemporary Art Museum is so close to the public and filled with fun and young vibes. We arranged the full membership and mobile tour services on its main page along with the introduction of the museum and its exhibitions. The main page was designed to be rather simple, but still entertaining, and to deliver the vivid atmosphere of the museum by updating its contents, including programs and reviews.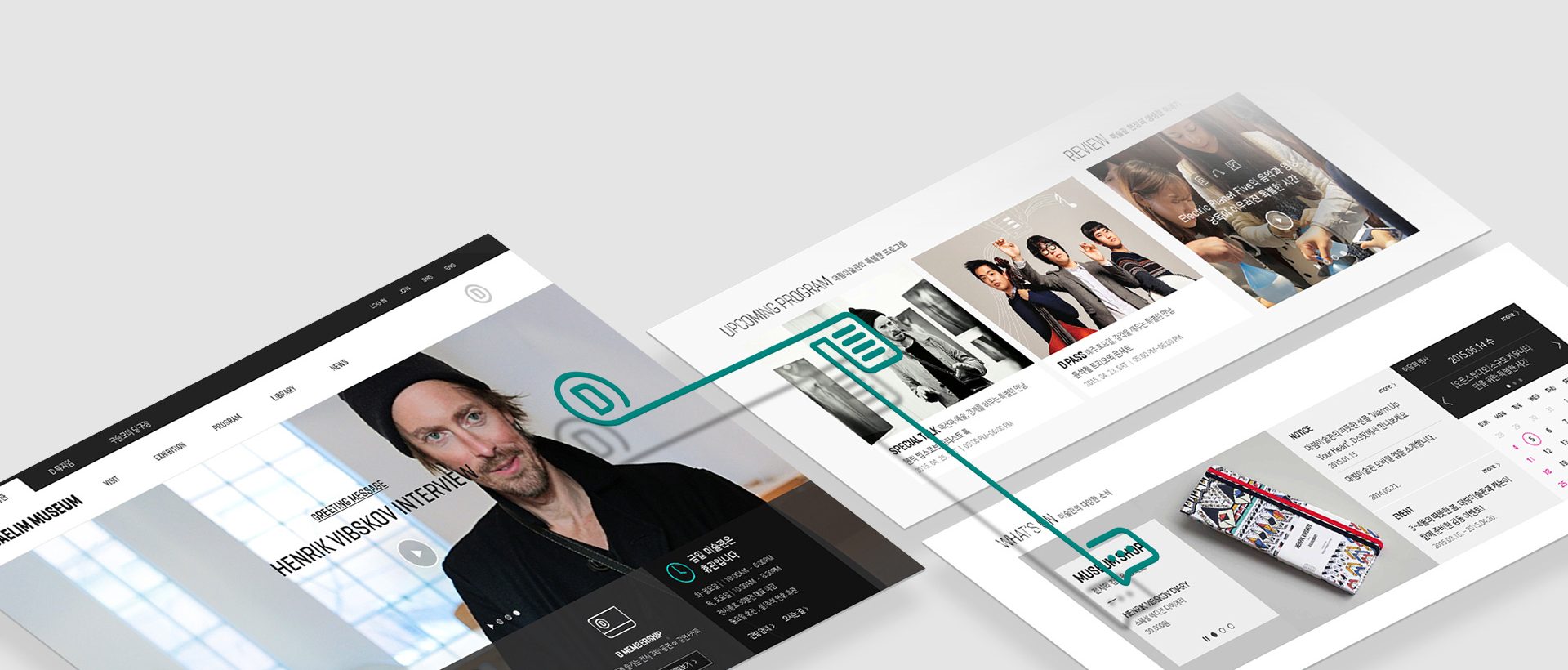 While the composition of information was designed to be general and intuitive, we were concerned about how to present the information on an exhibition, usually lasts 6 months, to stay attractive despite of its long-period exposure. Therefore, we tried to use various factors, generally applied in magazines, edition designs, and others. Moreover, by resolving an issue of long-scrolling and fully utilizing a focus function to allow an easy access to each section, we managed to create the UI with outstanding usability.
Exhibition held at Daelim Contemporary Art Museum is not for a one-time visit. It is allowed to make a re-visit for the corresponding exhibition with the once-used ticket. For ease of re-visitation, a personal visitation history is now saved into a DB so after log-in on its app, it is possible to make a re-visit. Also, by connecting library contents, the experience at the museum could be sustained on the web since relevant information and reviews are constantly provided afterwards.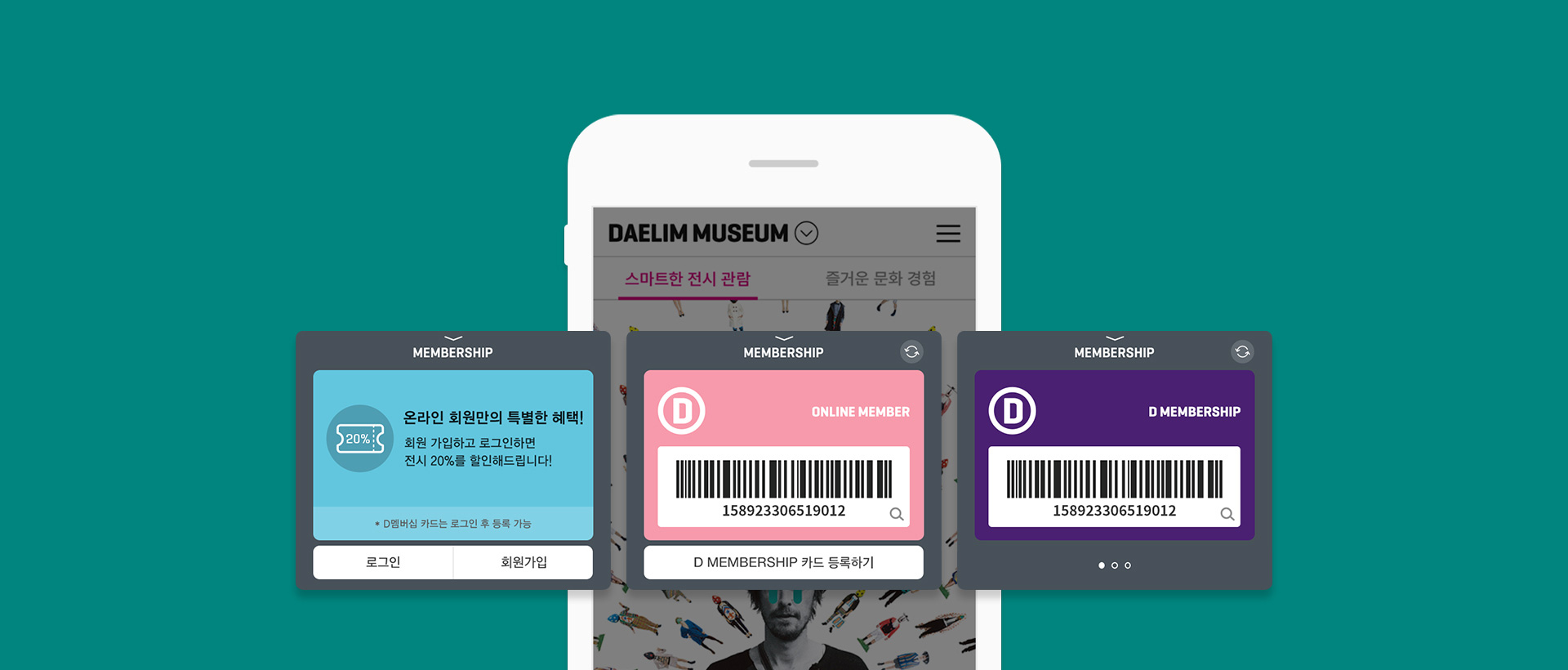 Based on the weakness detected by directing using the previous mobile tour services, we came up with practical solutions: In the previous service, a guide tour was given along the no. of art work, and audiences might miss the order of the guide tour unless they kept their eyes on the mobile screen during the entire tour. Therefore, we improved the guide tour by allowing audiences to check the position of an art work even if they do not keep their eyes on the mobile screen or get lost in the museum. Audiences are wiling to appreciate art works in the museum with their eyes.

Coupons are a service directly related with sales. The calculation of sales has to be made directly on the sales site. POS system is used for calculating of coupons registered in the operation, but we designed the interface with which the user can check the calculation of sales with the App. Also, a push service is now integrated with a coupon service so a user could get notified when a valid coupon is issued at the App.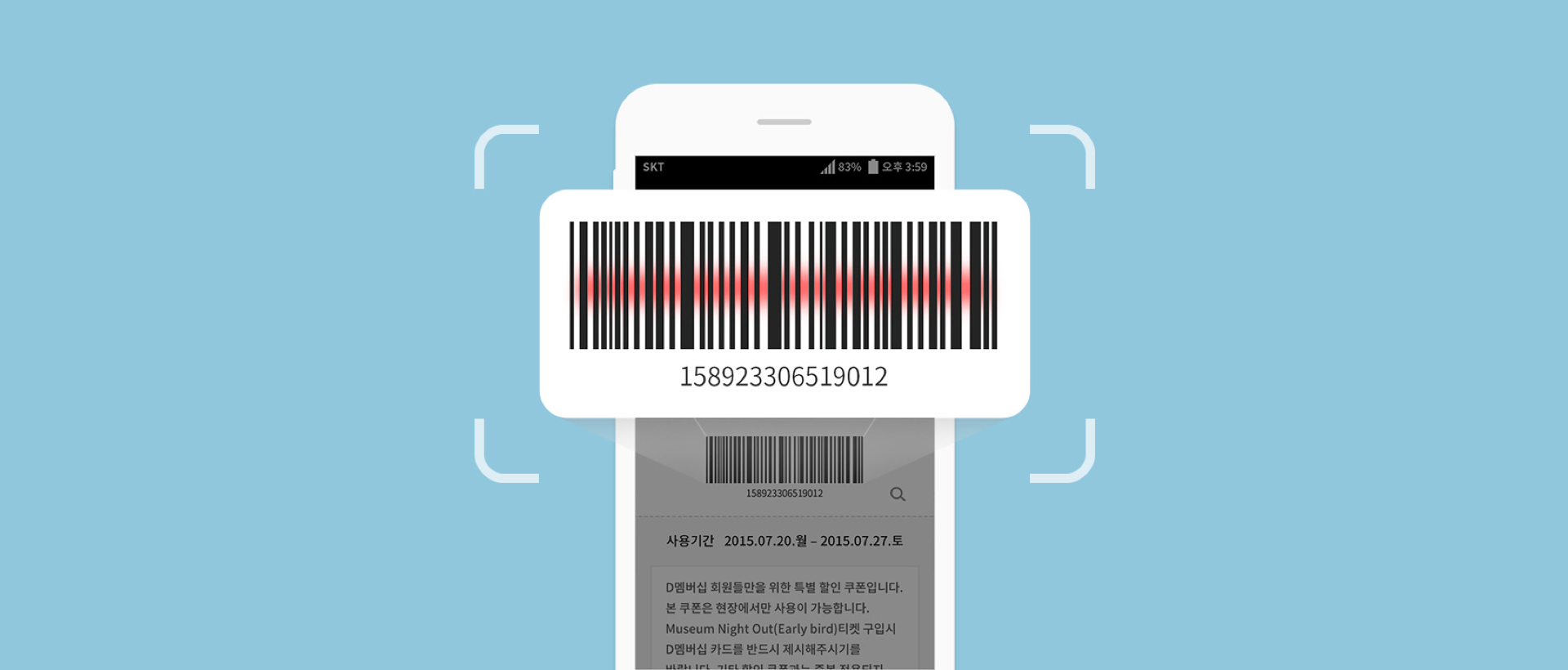 Since there are three buildings and weekly events and openings, it is not easy for a visitor to take a look at them all. So, the schedule of each museum building is provided in one place and on a weekly basis for the user to easily acknowledge.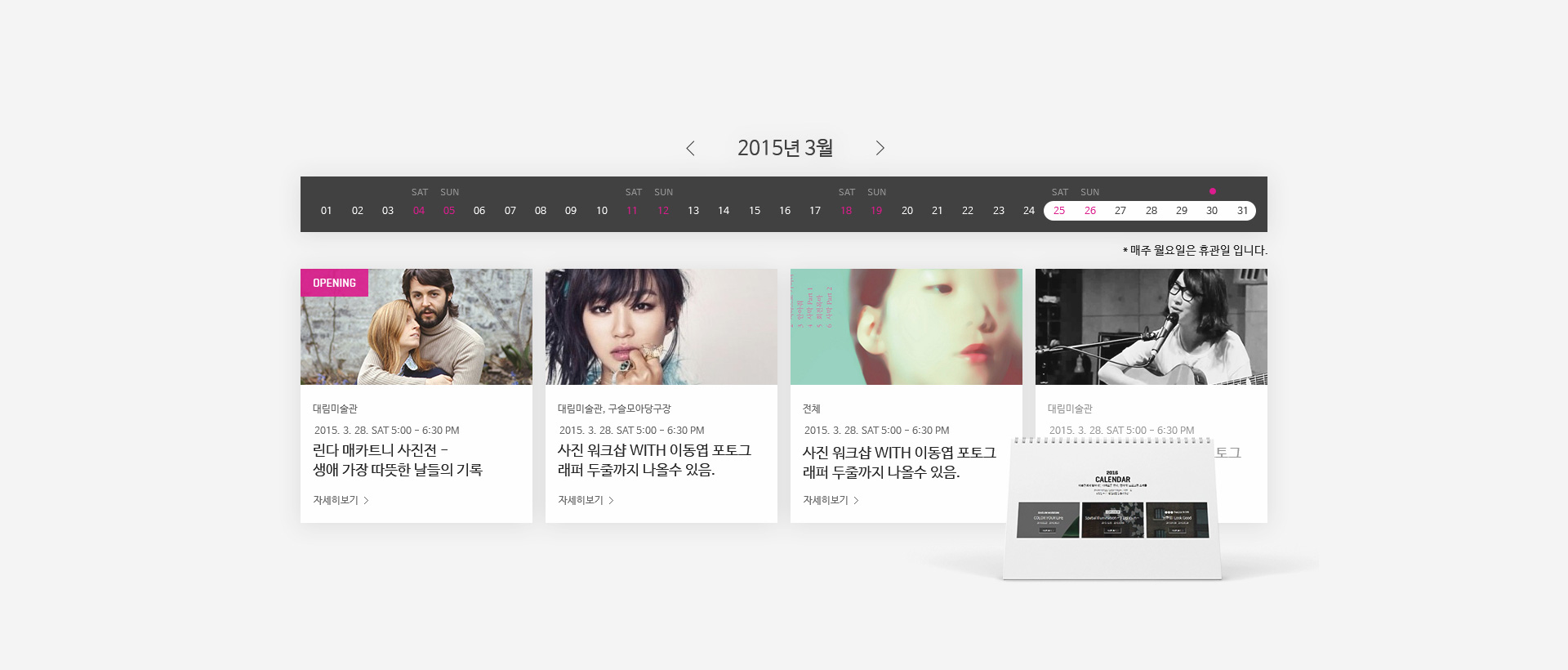 While executing this project, we recognized the young and flexible vibe of Daelim Contemporary Art Museum. Along with the energy from exhibitions and contemporary interior designs, it provides a novel atmosphere, somewhat similar with a club where filled with electronic sounds. When you go to club, you go there without any thinking, but just for fun. It applies to Daelim Contemporary Art Museum as well. All you have to do is put on your favorite leather jacket, instead of your formal wear, and just enjoy. We were trying to express such young vibe on its website, and we believe that we managed that part well.

Credits
Project Manager

Jeong Jiyeong

Creative Director

Yang Shinmoe

UX Designer

Seon Soyang, Cho Wonhee, Kim Seonran

UI Designer

Han Yungyeong, Jeong Mijeong, Choe Seonggyu, Kim Jiseon

Front-end Developer

Hwang Inyoung, Park Giwan, Kim Jeonggi

Back-end Developer

Kim Ohseong, Park Bongil, Lee Jungwoo, Nam Giuk, Jeong Seungwoo